Skilling India & Make in India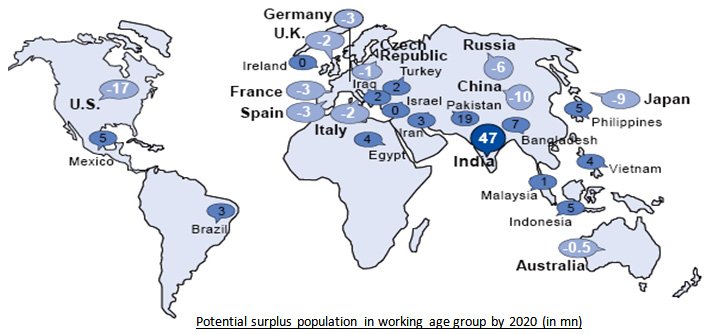 Skill Force Requirement
India is drastically developing both scientifically as well as technologically. The young India is technology savvy, knowledgeable, ambitious, progressive. However we have a very large young population who are unemployed. About 63% of the school students drop out at different stages due to financial or personal issues before reaching the Class X. A majority of Indian Youth do not possess marketable skills which are an impediment in getting decent employment and improving economic condition of them. Economic growth require not just a large working population, but people who are trained and skilled to work in different industries.
India will have a surplus of 47 million people in the working age group by 2020 vs. a shortage of 56 million in the rest of the world Great opportunity for India to tap international labour markets in the next decade
Elementary School Dropouts rate

40%

40%

Potential surplus population in working age group by 2020 (in mn)

47%

47%

Current Groth rate 2014-15

5.5%

5.5%

Labor Force Agriculture 2012 est.

51.1%

51.1%

Labor Force Industry 2012 est.

22.4%

22.4%

Unemployment Rate 2011 est.

4%

4%
Vision
To ensure "Every unemployed get Employment". Since its establishment in 2006, The organization is founded on the firm belief that Vocational Training is the fundamental right of every unskilled worker  and no person should be deprived of this basic right simply because he/she does not have access to it or does not have the resources to realize his/her dreams.
We are one of the leading Vocational Training Provider (VTP) in INDIA Registered under Ministry of Labour and Employment. We want you to take advantage of having this wonderful resource at your finger tips. In the vocational education space, AET provides NCVT Certificate Programs in spoken English, Finance & Banking, Retail management, Information and Communication Technology etc. Some of these courses are being offered in collaboration with other reputed organisations under the banner of AET.
At AET we enhance both technical as well as non technical courses and instill discipline through our dedicated faculty who shall set out to educate and train candidates and ensure quality training in all technologies. At our training center we have combination of best faculty as well as best lab facilities to focus more on practical training rather than theory classes.
Mission
Our mission is to educate students to enhance their employ-ability skills across the nation including those of local and rural areas. We work on our policies to make sure that students get the best education and be ready for their opportunity when it arrives, also with capable of self-employment.
Conclusion :
Growth is hampered by poor standard of education at school & college level and high drop out rates

Present HRD system and policies ignore those who have failed and disregards this significant & critical yet productive group

Existing solutions delivered through ITIs & VETs lack academic depth, technical rigor, geographical reach & faculty/curriculum quality

India, over the next five years, will have surplus of un-trained and under-educated people of ~ 1.3 million and will fall short of real talent by ~ 5.3 million

There is a clear and present need for intervention of the private sector either independently or in PPP models to start bridging these gaps and augment the

supply of "employable talent" through skill enhancement of our human resources.



Placement Support
AET has consistently producing skilled capable of matching the employer's expectations and has been reaffirmed every time. At AET, placement is not an event, it is a process. The placement cycle begins with counseling early in the program and continues with live exposure to the industry and its dynamics throughout, culminating in the placement of a student.
EDP Program
Entrepreneurship has been considered the backbone of economic development. The myth that entrepreneurs are born, no more holds good, rather it is well recognised now that the entrepreneurs can be created and nurtured through appropriate interventions in the form of entrepreneurship development programmes.
Clear Communication
English language training for all sectors trainees including personality development classes. to meet the growing needs for soft skills among employees at the entry level and at supervisory and managerial levels in the corporate sector in today's highly competitive market place.
IT Literacy
Computer awareness program for all non technical courses like garments, beauty culture etc. To give acceleration to make India 100% Computer Literate, it is highly essential to take 'IT' education to the grass root level. Until & unless the end-users are educated in the right way to handle the technological aids, our goals cannot be achieved.
Get In Touch.
If you are interested in working together, send us an inquiry and our team will get back to you as soon as we can !